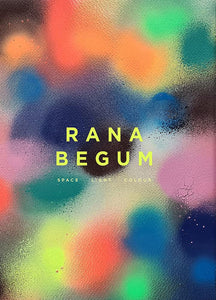 Rana Begum: Space Light Colour
Regular price
£40.00
£0.00
Tax included.
Rana Begum RA (b.1977) is an artist known for her wide ranging works, from the intimate to the monumental. Using a variety of materials and exploring the use of light, she blurs the boundaries between sculpture, architecture, design and painting to create works that are both playful and ambiguous. 
This comprehensive monograph expands on previous writings to investigate the ideas behind the artist's varied use of materials, including wood, metal, ready-made industrial components and MDF. With a focus on her processes, the ways in which Begum's work intersects with architecture and design are drawn out, while key sources of inspiration - from the environments in which the artist works, to Islamic art and minimalism - are discussed.
Combining contextual essays and an extensive interview with the artist, the development of Begum's work — from painting and furniture design to installations and light sculptures — is traced to present an in-depth overview of the multifaceted, complex work of this fascinating artist. 
Publisher: Lund Humphries Publishers Ltd (2021)

Hardcover
192 pages
Dimensions: 288 x 213 x 30mm
ISBN 

978-1848225329
---