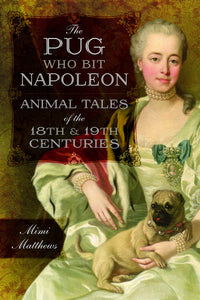 The Pug who Bit Napoleon
Regular price
£14.99
£0.00
Tax included.
From elaborate Victorian cat funerals to a Regency era pony who took a ride in a hot air balloon, Mimi Matthews shares some of the quirkiest—and most poignant—animal tales of the eighteenth and nineteenth centuries.
Meet Fortune, the Pug who bit Napoleon on his wedding night, and Looty, the Pekingese sleeve dog who was presented to Queen Victoria after the 1860 sacking of the Summer Palace in Peking. The four-legged friends of Lord Byron, Emily Brontë, and Prince Albert also make an appearance, as do the treasured pets of Alexander Pope, Samuel Johnson, and Charles Dickens.
Less famous, but no less fascinating, are the animals that were the subject of historical lawsuits, scandals, and public curiosity. There's Tuppy, the purloined pet donkey; Biddy, the regimental chicken; and Barnaby and Burgho, the bloodhounds hired to hunt Jack the Ripper. Wild animals also get a mention in tales that encompass everything from field mice and foxes to alligators and sharks lurking in the Thames.
Using research from eighteenth and nineteenth century books, letters, and newspapers, Mimi Matthews brings each animal's unique history to vivid life. The details are sometimes humorous, sometimes heartbreaking, but the stories are never anything less than fascinating reading for animal lovers of all ages.
---